"Deliciously earnest…Lindsay's best songs are empowering battle hymns for the perpetually downtrodden."

Entertainment Weekly
Lyricist, guitarist, singer and poet, Jenn Lindsay was a Boston Globe Calendar Pick, featured on MTV and NPR, and toured her ten studio albums internationally. She was featured on the Village Voice and the San Diego Union-Tribune weekly shortlist. Her style has been best described by fans and the media alike as intelligent, tender, and unaffected–or, according to NY MakeMusic, "a welcome blast of taste and sincerity."
"Something good has to come out of the current economic downturn, right? Well, here's one: anti-folk singer-songwriter Jenn Lindsay." (Amy Phillips, Village Voice)  A reviewer at Smother.net remarked, "Jenn Lindsay has her finger right on the pulse of the whole wide world of working people everywhere."  Rambles Magazine said, "If some of her songs were given the exposure that they deserve, New York would be one receptionist short but the folk world would be one star richer."  The impoverished struggle of being a solo artist in NYC sent Jenn out onto the road, booking her own shows, leading college workshops, and forming traveling collectives with other emerging artists.  Her music, "delicate and tough…stark urban imagery" (San Diego Union-Tribune), showcases "a talent well-versed in the field of social protest music" (Stanford Daily).
Jenn's musical community is the NYC Anti-folk scene, a hub of musicians based in the East Village's Sidewalk Cafe, who share a mutual distaste for mediocre, well-packaged mainstream music.
See her live performances playlist here!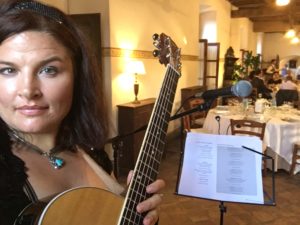 Hear and buy Jenn Lindsay's music at:
Explore Jenn's music more here.
Listen to some tracks below.
Uphill Both Ways:
White Room:
Beauty Queen:
I Am Not Going Home Yet:

http://www.jennlindsay.com/en/wp-content/uploads/2018/08/05-I-Am-Not-Going-Home-Yet.mp3

I Knew You:

http://www.jennlindsay.com/en/wp-content/uploads/2018/08/06-I-Knew-You-1.mp3

I Am Breaking Up With You:

http://www.jennlindsay.com/en/wp-content/uploads/2018/08/01-i-am-breaking-up-with-you.mp3

Jill + Jill:

http://www.jennlindsay.com/en/wp-content/uploads/2018/08/09-Jill-Jill.mp3

Kitchen Sink:

http://www.jennlindsay.com/en/wp-content/uploads/2018/08/14-Kitchen-Sink.mp3

Cedar Trees:

http://www.jennlindsay.com/en/wp-content/uploads/2018/08/02-Cedar-Trees.mp3

House in New Orleans:

http://www.jennlindsay.com/en/wp-content/uploads/2018/08/09-House-In-New-Orleans-1.mp3

Sidewalk Song:

http://www.jennlindsay.com/en/wp-content/uploads/2018/08/11-Sidewalk-Song.mp3
Discography
Bring It On (2000)
The Story of What Works (2001)
Gotta Lotta (2002)
Fired! (2003)
The Last New York Horn (2004)
Uphill Both Ways (2006)
Perfect Handful (2006)
A For Effort (2008)
Prospect Hearts (2011)
Allora Eccola (2014)